Influential women leaders in global companies
Looking across the vast tech landscape, we find many women shaping the industry with their expertise in science, technology, engineering, and mathematics (STEM) fields and pioneering approaches to work. From Dr Elizabeth Churchill who is the Director of User Experience at Google to Andrea Leszek, who is the EVP and Chief Operating Officer at Salesforce and Susan Wojcicki, CEO of YouTube, there are thousands of brilliant names to mention in this context.
Women in Tech at CriticalRiver
Certified as the Best Company for Diversity in 2021, CriticalRiver actively recruits women for jobs that require creative and technical skills. And our women employees have proven their tech expertise across multiple projects.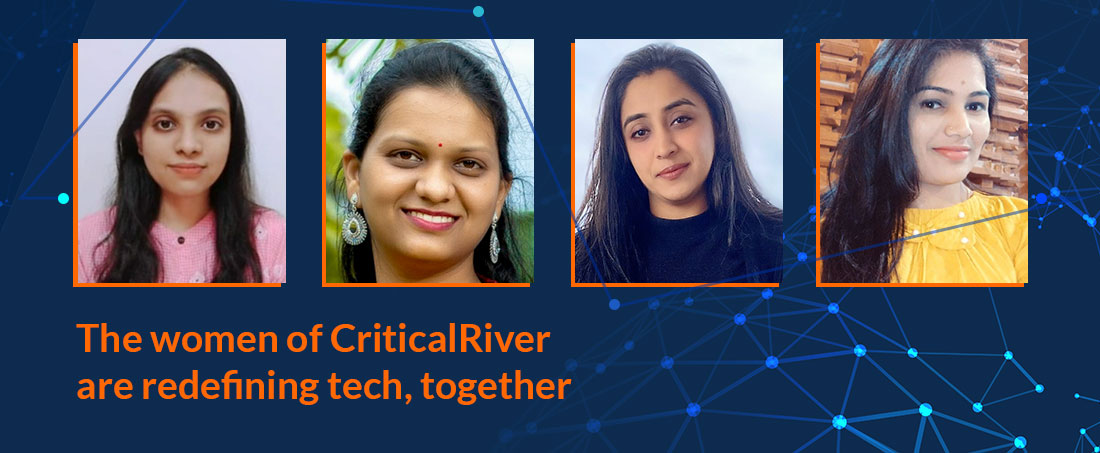 An example of how our techie women excel at creating valuable digital experiences was in their handling of a project for BITS Pilani and its non-profit organization BITSAA (BITS Pilani Alumni Association).
BITSAA needed a unified, automated system to manage the details of its alums, donors, and the donations made to the institution. The existing manual process was error-prone and made it difficult to keep the database up-to-date. CriticalRiver's technically-adept women technocrats leveraged the Salesforce non-profit success pack (NPSP) to build an automated donor management system for BITS. It integrated the end-to-end fundraising activities and donor management process on a single, unified platform. The benefits included real-time updates, better information categorization, and robust data security.
The women who led this project successfully delivered a portal that simplified market segmentation for BITSAA, helping it retrieve relevant data and connect to donors when required. All internal and external stakeholders appreciated our team's support.
Women in Tech as Our Clients

CriticalRiver also feels privileged to work for companies where women are active in technology-based domains. One of these clients was Cypress Semiconductors Corporation which had Ann Minooka as its VP for Marketing and Communications. She appreciated our expedited deployment of Pardot, a Salesforce SaaS tool used in targeted email campaigns, streamlined lead management, and marketing automation. She is currently serving as the CMO of Ampere, a California-based semiconductor manufacturer.

CriticalRiver is also proud to partner with Meghna Sharma, Director of GTM Applications at View Inc. A Salesforce consultant with 17 years of CRM experience, Sharma leads cross-functional teams to deliver customer-centric projects that align business goals with IT solutions. She is recognized for addressing complex problems at work and has always pushed her co-workers to deliver truly impactful outcomes. As a woman leader in tech space, Sharma has expertise in designing and deploying cloud solutions for sales, marketing, and support teams to achieve productivity and operational excellence. While she believes that digitally enabled organizations have taken measures to drive diversity & inclusion, industries can still do more to eliminate pay gaps and build leadership with women in tech roles.
The Takeaway: Building equitable workplaces in a digital-first world
Businesses across industries are pursuing digital transformation to improve customer experience, increase business productivity, agility, and revenue, reduce costs, and strengthen compliance. Hiring and retaining a talented workforce is the need of the hour. And as women continue to display their strengths in STEM domains and thrive in their chosen tech-rich careers, more companies must and are coming forward to support them in such journeys.
We are delighted to state that CriticalRiver is among them.