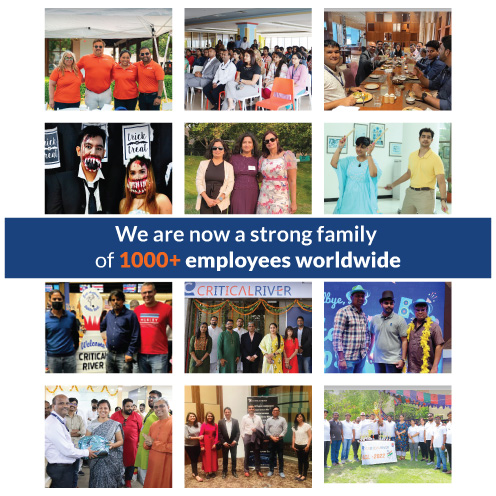 The culture of the company, it is said, reflects the personality of the company. By that yardstick, CriticalRiver is a fun and lively place of work. And yes, we have been certified as such by Great Place to Work!
CriticalRiver's vision, mission, values, ethics, goals, and objectives combine to make it an all-inclusive company that provides a stimulating and congenial work environment for employees. Here, they have as much freedom to discuss and debate as to dissent and collaborate as a team. Our people-focused strategies and outlook have helped us deliver cutting edge, hi-tech solutions that accelerate growth for our clients .
Employees work at their optimum level and deliver their best when they enjoy what they are doing. We make special efforts to ensure people are a right-fit for their jobs and that their environment keeps their passion for work ignited. In addition, compassion toward co-workers, a sense of belonging, smiles and laughter go hand-in-hand at CriticalRiver.
Core Values
We imbibe, believe & stand for these values

Customer-Centric
Meet or exceed the expectations with speed and quality

Respect
Be empathetic & respectful with everyone irrespective of their position or role

Honesty
Be honest with customers and co-employees

Responsibility
Take 100% ownership for your decisions, behaviors and results
Let's Start Something New