A New Version reigning the industry, or you can call it Fourth Industry Revolution, Industry 4.0 is here to stay. The fourth industrial revolution had adopted computers and automation from the first industrial revolution driven by mechanization through water and steam power.
It will enhance it with smart and autonomous systems stoked by data and machine learning. It will combine the physical with the digital. When we glance around us, we know that this has already begun!
Four necessary principles that support businesses in recognizing and implementing Industry 4.0 are:
Interconnection
Information Transparency
Technical Assistance
Decentralized Decisions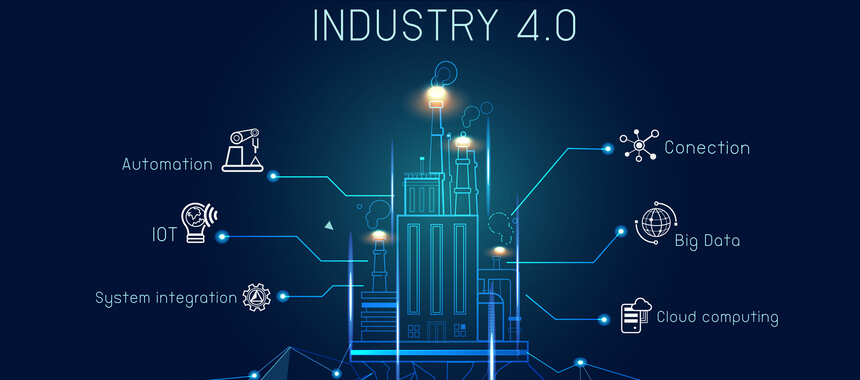 The Concept of Smart Factory
Smart Factory adopts a system that deals with the physical and virtual world in which digital devices are networked and communicate with raw materials, machines, robots, and humans.
Why Industry 4.0?
Today we see the fourth industrial revolution unfold. All innovations earlier were only possible because of improved digital power. Industry 4.0 is not only about intelligent devices; its scope is much more comprehensive.
The coronavirus pandemic has pressed significant changes across the globe, expediting digital transformation and completely impacting workflows.
Industry 4.0 focuses on competitive advantage, cost minimization, potency, sustainability, and change. The purpose was to make well run companies run better.
The focus for many companies today is survival first and then damage control. The direct financial impact on businesses is already resulting in a massive contraction in investments. Many Industry 4.0 solutions fall into the class of non-essential business activities.
The Game-changers in Industry 4.0

Robotics
Robots will ultimately communicate with one another and work securely with humans and learn from them. These robots will be less expensive and have a more excellent range of abilities than those used in manufacturing today.

Cybersecurity
With the heightened connectivity and use of conventional communications rules that come with Industry 4.0, the necessity to guard crucial industrial systems and manufacturing lines against cybersecurity perils grows dramatically. As a result, robust, reliable communications and advanced identity and access control of machines and users are indispensable.

Cloud
Increased production-related projects will demand enhanced data sharing across sites and company boundaries. Simultaneously, the efficiency of cloud technologies will improve, producing reaction times of just some milliseconds.
So, machine data and functionality will frequently be deployed to the cloud, allowing more data-driven services for production systems.

System Integrations
With Industry 4.0, companies and capabilities will mature and become much more cohesive. As a cross company, data-integration networks develop and facilitate genuinely automated value chains.

Augmented Reality
AR-based systems help various services, such as selecting parts in a warehouse and communicating servicing instructions over mobile devices. AR is currently in its infancy, but businesses will make much broader use to give real-time information to enhance decision-making in the future.