The year 2020 will undoubtedly be identified by the COVID-19 pandemic. It has significantly changed the way customers search for, access, and use goods and services.
During the COVID-19 pandemic, customers have changed their buying and spending attitudes from in-person to practically online. These shifts in consumer behavior have caused an alteration in the way companies are trying to woo customers, and an identical change in the digital marketing trends 2021 is likely to affect.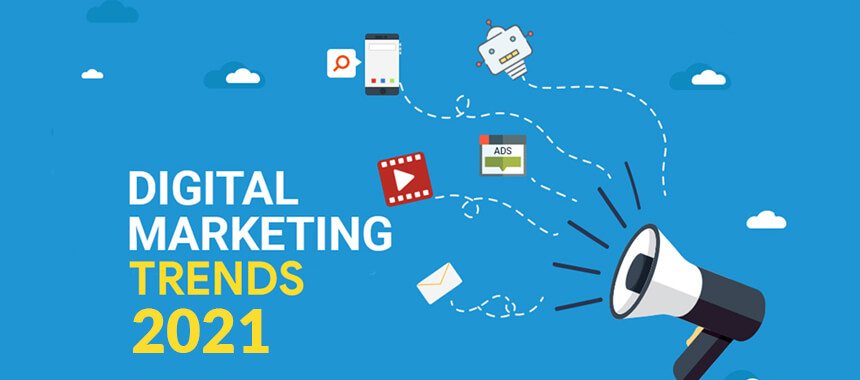 Here are the most advanced digital marketing trends that will reshape 2021:

Voice Search
Voice search is not a brand-new sensation. We have been utilizing voice search on iPhones since Apple's Siri developed in 2011. However, COVID-19 has made customers more convenient ordering and giving information through voice search.
Tailoring a Search Engine Optimization strategy based on consumer voice search behaviors and choices post-COVID will likely prove more profitable than ever before. Perhaps most critical is ensuring your website and the app is optimized for voice search.

Social Media Marketing
The radical rise in social media marketing's importance is a marked shift from pre-COVID 2020, as users ramped up their access to all major platforms while on lockdown. As the pandemic subsides, your most potent demographics will continue to research, connect with, and buy from your brand, starting with your social media platform.
The use of influencer marketing to improve your most important products and brand messaging remains to skyrocket. It continues to be one of the critical social media-based trends in digital marketing. Companies can use highly visual platforms like Instagram and FB to engage a userbase more prepared to shop from home.

Communication of Availability
The availability of products is the number one reason consumers are changing their brand loyalty today. The resolution is to improve inventory days on-hand of products or the availability of timeslots for services.
If modifying stock levels or servicing hours is difficult, timely communication becomes pre-eminent. Consider putting a banner on your site to show when essential products will be in-stock for high-volume items. Create a subscriber list to be proactive with informing clients of availability differences with an automated text or email.
Segmentation
It costs less to keep your current customers than earn new ones. Marketing specialists always suggest exerting more stress into the later stages of the customer's journey. Happy customers give you direct and accurate feedback about problems that will only reinforce your brand.
Keep them notified on your organizational developments or processes that would affect your relationship through email marketing or social networks. By gathering data and segmenting your customers, you have a chance to save costs while delivering your products and services. You can also target them more cost-effectively, enabling you to expand your marketing dollars even further.