The world is on the verge of wrapping up the year 2020 with mixed feelings, undoubtedly, this year has given more pain to all of us than any pleasure, a year not many us would want to remember. And we're poised to usher the new year 2021, albeit, wary of what the new year has in store for us.
We at CriticalRiver too started the year 2020 on a bullish note with new goals, objectives, and aspirations, but by the end of the 3rd quarter, we, like all were staring at an invisible enemy, the entire leadership team rallied together and quickly put in place all systems and procedures, ensuring unhindered and uninterrupted projects delivery. And I'm extremely pleased with the efforts the entire CriticalRiver family worked from home tirelessly to ensure customers' satisfaction.
The year 2020, besides economic instability, has also been witness to the Black Lives Matter movement, which became a rallying cry not just in North America but the entire world. The movement made all sit together and ponder on how much more we must do as a civilized society. Needless to say, CriticalRiver is an all-inclusive company and treat all employees equally regardless of caste, country, creed, race, color, religion, disability, or culture.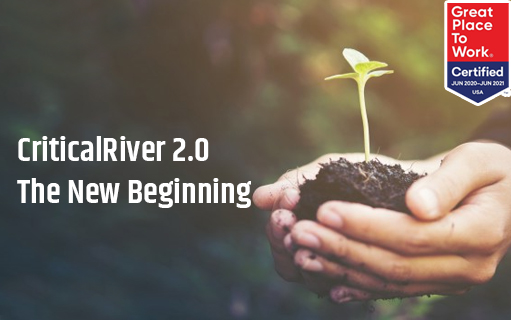 CriticalRiver 1.0
CriticalRiver was born in 2014 and incidentally, this year 2020 also marked the half-a-dozen years of CriticalRiver's existence, which we called CriticalRiver 1.0. Now that these gloomy days are behind us, we've new operating models, plans, goals, objectives, and aspirations for the new year 2021, and we're calling it CriticalRiver 2.0.
On a reflective note, the past half-a-decade has been challenging and gratifying, from a humble beginning, we've grown to build an enterprise with over 300+ employees and offices in 4 continents. Now that a strong foundation is laid, we've already put in place the goals, objectives, and operating & business models for the next half-a-decade.
CriticalRiver is in the business of helping customers, cutting across myriad industries, adapt, innovate, and digitally transform their business to grow manifold levels. We've consistently and continuously achieved this at the back of a strong foundation, the basic premise of which is our Core Values – – Customer-focus, Respect, Honesty, Responsibility – CRHR. The Core Values we imbibe and believe in.
CriticalRiver 2.0
Our strength lies in our flexibility to ADAPT TO CHANGE. And this flexibility and adaptability to changing times will be the focal point of our strategic operating models for CriticalRiver 2.0. From aviation to agriculture, from driver-less cars to drones/robots used in farming, today Technology is everywhere.
With a diverse portfolio of success stories cutting across major industries, we're poised to help our customers with emerging technologies such as Cloud, Artificial Intelligence, IoT, RPA, while our core experience in delivery technology solutions leveraging Salesforce, Oracle products, and Open Source Technologies to implement digital transformation solutions keep growing.
At the intersection of delivering high-value technology solutions, and building, nurturing strong relationships with customers and partners, lies the catalyst – The Core Values – coupled with ethics, integrity, passion, compassion, empathy, sense of belonging and strong commitment towards our customers' business. Perhaps this is a reason why our customers, with whom we started way back in 2014 still remain our very valued and loyal customers and will continue for years to come.