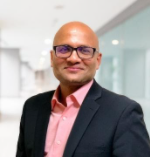 From the Desk of
Anji R. Maram,
Founder & CEO,
CriticalRiver Inc.
CriticalRiver was founded in 2014. We poured our savings to make a small beginning with a few employees and offices in California and India that has now grown into leap and bounds with over 300+ employees and offices in Pleasanton, California, Dubai in the Middle East, Hyderabad in India, and Sydney in Australia.
CriticalRiver was founded on the premise of our core values. They're – Customer-focus, Respect, Honesty, Responsibility, – we call them CRHR and the four pillars. Our Leadership Team, Partners, Customers, and Employees, the four cornerstones.
Together, they're the foundation of our success. The four pillars and the four cornerstones truly define who we are, what we do, and how we do.
Over the years, we've put in place systems and procedures of international standards, leveraged cutting-edge technologies, hired, trained, and nurtured talent – all to ensure we deliver high-value technology solutions to our customers helping them grow manifold levels.
Our Vision at CriticalRiver is to work with passion, foster greater collaboration, with a customer-first approach, and deliver quality service while staying grounded and driven by our values. While the Mission is to help customers with value-driven returns on their investments.
A renowned philanthropist was once asked "What is the difference between a rich company and a wealthy company" he replied "A rich company accumulates money, whereas a wealthy company gives back the acquired wealth to society.
True to these words, I envision CriticalRiver to be a wealthy company. We aspire to create jobs, deliver world-class services to our customers, generate wealth and help the underprivileged to live a decent, respectful, and dignified life, for my conviction, is "God gives us the opportunity to serve him by serving humanity".
I strongly believe and it has always been my conviction that inclusive growth benefiting our employees, customers, and partners is what differentiates between a good company and a great company.
CriticalRiver is an all-inclusive company that encompasses all holistic elements and provides a congenial work environment for our employees, replete with the freedom to discuss, debate, dissent, and work together as a team to deliver cutting-edge, technology-powered solutions that our customers are proud of.
Please feel free to reach me at anji.maram@criticalriver.com I would be more than happy to be of any assistance to you.
Thank you,
Anji R. Maram
Founder & CEO
CriticalRiver Inc.
Let's Start Something New